Ask an Attorney a Question for FREE!
Body Shop issues and Insurance
by Dennis
(Xenia,Ohio)
Hail Storm damaged my Vehicle and had Geico come out and give an estimate for Repairs. Vehicle had to be repaired because I currently have a car loan. Estimate didn't cover passenger side of Scratch damage from Hail. I took Vehicle to a Local Body shop for Repairs and Estimate.

I told Body Shop I want this side fix. He assured me insurance would cover side.

3 weeks go by the side in question was not fixed. He said insurance disapproved work. I ask insurance about this and they said he never sent a claim in about that side? Plus the body shop missed dents on roof and didn't replace window that was on initial claim. He was paid for the work!!

My question do I have to return to this Body Shop or can I find another Shop to finish the job not completed?

I am not happy with the Body Shop! I felt after 3 weeks he could of notified that they couldn't paint passenger side and they should of fixed Winshield and other dents on roof!! I feel now I should be able to go to a body shop of choice u trust!

What do I do?

Answer:


Hello Dennis ,

You do have a right to pick the bodyshop until as long as what they charge is reasonable and necessary. There is a dispute as to what is covered and what is not.

Have your mechanic talk directly with the insurance company. The insurance company will have to process the claim and give you an specific denial.

If you cannot get anywhere with the insurance company or the bodyshop, consider filing a claim with the department of insurance or the office of the insurance commissioner of your state (They are called different things in different states).


How Much is Your Case Worth?
Ask a Lawyer Now!
Subscribe to our Free Newsletter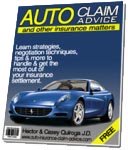 Join our free monthly subscription with tips, news, articles, negotiation techniques, and more about insurance companies and their claim process.
As always, it is very important that you talk with a local attorney!
Good Luck,
Auto Insurance Claim Advice
Join in and write your own page! It's easy to do. How? Simply click here to return to Got Questions?.
Please see more answers to recent personal injury and auto accident questions below:
---
For a Free Review of Your Case
Please Call (866) 878-2432
---