Ask an Attorney a Question for FREE!
Brake Problem after Minor Accident
by Daryl
I was involved in a traffic accident here in Qatar last November 4th.

An SUV suddenly made a U-turn from a car park slot without checking a vehicle coming from his rear, as there was no chance to brake, I hit his door (driver side) with my front bumper...

Police report: His fault

The Damages:

His - Front Left Door left with a huge dent
Mine - Car Plate damaged, minor dent and scratches on front bumper

His insurer has now agreed to pay for the body works through their service garage.

Problem:

Today, just about 300m away from the workshop after I collected the vehicle, the left brake burnt, so i have to return it to the shop and asked them to resolve the issue and settle the fees with the insurer as "accident related damage"

I will know from them tomorrow of the result of their discussion, but in case the insurer refuses to include it to me claim, what are my rights?



Answer:

Hello Daryl,

Well, you have to show that the brake issue is accident related. That is standard for insurance companies. If you cannot show that, they may not cover it. It is the way it works. Talk to the mechanic and see if they can tell you if this is a possibility (more likely than not).

Some insurance companies will be very good and not give you an issue. Some will give you hell.

If you have an issue, talk to a local attorney.

You have a right to talk to a lawyer, you always do.

Good luck,

http://www.auto-insurance-claim-advice.com/



How Much is Your Case Worth?
Ask a Lawyer Now!
Subscribe to our Free Newsletter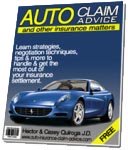 Join our free monthly subscription with tips, news, articles, negotiation techniques, and more about insurance companies and their claim process.
Join in and write your own page! It's easy to do. How? Simply click here to return to Got Questions?.
Please see more answers to recent personal injury and auto accident questions below:
---
For a Free Review of Your Case
Please Call (866) 878-2432
---