Ask an Attorney a Question for FREE!
Can an impact and scratches show the direction and speed of each car in an accident?
by Jeremy
(la habra, CA)
I was driving down a two lane highway when I came to an intersection where I had no stop sign. A man hit me on the right side of my car as he was turning onto my lane from an intersecting street. I was in the left lane and he overshot the merging lane in which he should have turned into. This man never got out of his car and he never asked if I was ok. I had my camera with me and I took pictures of the damage but not really the location.

Now he is saying that I was trying to pass him and that I hit him. After the merging lane. the problem with his story is that the pictures I took have his car sitting next to grass and a curb, but after the two lanes merge there is no curb or grass just dirt. he is saying that we pulled over into the dirt but my pictures show asphalt under his and my car. I am just wondering if I could get help with this and how if can better explain to my insurance what actually happened. And can you tell the speeds and directions of the impact by these photos of the vehicles.

Answer to: Can an impact and scratches show the direction and speed of each car in an accident?

Hello Jeremy,

The short answer is yes. Speed and direction can be determined by looking at pictures and the scene. HOWEVER, insurance companies will not do a in depth accident reconstruction without substantial damages (i.e. fatalities, etc).

You can have an expert determine all of that, but unless your damages justify the expense, they will not do it.

So you are left with an argument for common sense. Look at the pictures and his story. It does not match. Talk to your adjuster and make sure your side of the story is being represented. Since there is a disagreement, then maybe mandatory arbitration between carriers is the next step.

Good Luck,

http://www.auto-insurance-claim-advice.com/


Subscribe to our Free Newsletter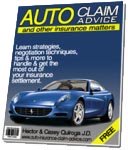 Join our free monthly subscription with tips, news, articles, negotiation techniques, and more about insurance companies and their claim process.
Join in and write your own page! It's easy to do. How? Simply click here to return to Got Questions?.
Please see more answers to recent personal injury and auto accident questions below:
---
For a Free Review of Your Case
Please Call (866) 878-2432
---