Ask an Attorney a Question for FREE!
Can I sue my own insurance company for pain and suffering
I was in a mva involving only my vehicle I was not driving a friend was. He became unconscious and we flipped the vehicle. I ended up breaking my leg and having major surgery on my abdomen.

I am having trouble getting my insurance to pay. It was a no fault accident. I want t no know if I can sue my car insurance for pain and suffering.


Answer to: Can I sue my own insurance company for pain and suffering?

Hello there,

Well, you cannot sue the insurance company for pain and suffering. They did not cause the accident. (Note: you may be able to sue them for breach of contract, bad faith, and other theories).

Typically, you can only sue the person at fault, and usually that is driver. It would appear that the driver is liable to you, and the insurance company of the car would have to pay for your pain and suffering (regardless of the fact this is your car and your insurance policy covers the car).

However, you say this was not at fault and that he became unconscious suddenly. That could be a valid defense to his negligence (in which case, it is unlikely you would be entitled to any pain and suffering).

We suggest you do talk to an attorney. There maybe other insurance available to you. In addition, the "sudden medical emergency" or "medical defense" is difficult to argue.

Again talk to a lawyer. See for below:


How Much is Your Case Worth?
Ask a Lawyer Now!
Good Luck,
http://www.auto-insurance-claim-advice.com/
Subscribe to our Free Newsletter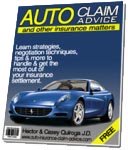 Join our free monthly subscription with tips, news, articles, negotiation techniques, and more about insurance companies and their claim process.
Join in and write your own page! It's easy to do. How? Simply click here to return to Got Questions?.
Please see more answers to recent personal injury and auto accident questions below:
---
For a Free Review of Your Case
Please Call (866) 878-2432
---