Ask an Attorney a Question for FREE!
Can insurance company of deny claim even if police issues ticket
by Ashley
(Alexandria, VA)
I got into a car accident 3 weeks ago and the guy was in the turning lane and switch lanes to try to go through the light and hit me. In the process knocking off my side view mirror on drivers side and denting side front panel as well.

He claims I hit him long story short police comes and determines its his fault issues him a ticket his insurance company all state comes back ro later and says she doesn't understand why he got the ticket it could have went either way and because of conflicting statements they are not responsible to fix my car.

Can they do that?


Answer:


Hello ,

Yes they can. They have a duty to believe their insurance. The police report is usually a very good fault indicator and they should (not obligated to) take that.

You want to get your insurance company involved so they can take this to arbitration. They will likely prevail if the police report stands.



How Much is Your Case Worth?
Ask a Lawyer Now!
As always, it is very important that you talk with a local attorney!
Good Luck,
Auto Insurance Claim Advice
Subscribe to our Free Newsletter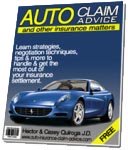 Join our free monthly subscription with tips, news, articles, negotiation techniques, and more about insurance companies and their claim process.
Join in and write your own page! It's easy to do. How? Simply click here to return to Got Questions?.
Please see more answers to recent personal injury and auto accident questions below:
---
For a Free Review of Your Case
Please Call (866) 878-2432
---