Ask an Attorney a Question for FREE!
Can they repair my dads truck he has full coverage?
My dad went to my house and I borrowed his truck to buy something to eat on my way back I got in an accident the police found me at fault.

My dad's truck has full coverage which is collision and comprehensive and liability. The thing is that im not on his policy and I have a valid driver's license.

Can the insurance company fix my dads truck? He has acceptance insurance. The company doesn't want to fix it. what can we do? I didn't hit the car the car hit me but they gave me a ticket for change of lane violation

Answer:

Hello,

Why is that they are not covering the loss? I mean the specifics. They have to have a reason to decline coverage. They can't simply say we will not pay.

There is an exclusion regarding this type of situation that is somewhat general. It states that if you use the vehicle for regular use and are not listed as a driver, then the loss will not be covered. Why were you driving the vehicle? For how long? Have you done this before, if so how often.

All of these are questions that you will have to answer. Coverage could be excluded from the policy.

Always talk to an attorney.


How Much is Your Case Worth?
Ask a Lawyer Now!
Good Luck
http://www.auto-insurance-claim-advice.com/
Subscribe to our Free Newsletter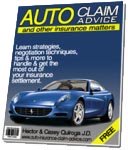 Join our free monthly subscription with tips, news, articles, negotiation techniques, and more about insurance companies and their claim process.
Join in and write your own page! It's easy to do. How? Simply click here to return to Got Questions?.
Please see more answers to recent personal injury and auto accident questions below:
---
For a Free Review of Your Case
Please Call (866) 878-2432
---