Ask an Attorney a Question for FREE!
Car took out neighbor's juniper bush.
My car slid while taking a turn on a wet street, it slipped onto a sidewalk and cut off one of a string of 3 foot tall juniper bushes. I volunteered to clean up, remove the section of the bush cut off, plant a new if needed. No need for an increase in insurance rates.

The property owner has taken the broken bush, threw it on top of the next bush and refuses to allow me to clean it up.

He claims he will contact my insurance company and try to have them remove the rest of the bushes because now he has an empty space.

Not empty, part of the bush is still there and will grow back. He also said he will need heavy equipment to do the clean up job.

Sounds like he will try to scam the insurance company for a new landscape job. Should we call the insurance company and volunteer all this info?

Answer:

Hello,

You took out one tree or a bunch of them? Sounds like the easy solution is to plan a new one or a set of new ones.

You have a duty to put him in the same position he was, but he cannot profit from this. I think you should get the insurance company involved.

Your rates may go up, but at least you have the protection. Tell the truth and your suspicions. They will double check that you are not being taken.

Note: He can refuse that you go to his property. Talk to your insurance company.

Good Luck,
http://www.auto-insurance-claim-advice.com/


Subscribe to our Free Newsletter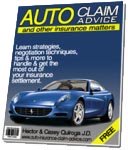 Join our free monthly subscription with tips, news, articles, negotiation techniques, and more about insurance companies and their claim process.
Join in and write your own page! It's easy to do. How? Simply click here to return to Got Questions?.
Please see more answers to recent personal injury and auto accident questions below:
---
For a Free Review of Your Case
Please Call (866) 878-2432
---