Ask an Attorney a Question for FREE!
Car Totaled | What is the process?
by Jeannette
(Goose Creek, SC)
An elder lady hit our car 2007 Grand Marqui, We still owe $18,000 It is possible her insurance company will total the car.

What will the insurance pay, are they liable for the payoff, or can we make them fix it, please we need advice.

We were planning to have this car for a very long time. There was nothing wrong with it prior to this accident.



Answer:

Hello Jeannette,

The car will be totaled depending on its fair market value and the amount of damages. You cannot make them fix it if it as a total loss.

Please see our pages about total loss here:



Good Luck,
http://www.auto-insurance-claim-advice.com/

Subscribe to our Free Newsletter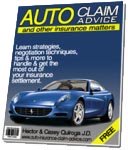 Join our free monthly subscription with tips, news, articles, negotiation techniques, and more about insurance companies and their claim process.
How Much is Your Case Worth?
Ask a Lawyer Now!
Join in and write your own page! It's easy to do. How? Simply click here to return to Got Questions?.
Please see more answers to recent personal injury and auto accident questions below:
---
For a Free Review of Your Case
Please Call (866) 878-2432
---