Ask an Attorney a Question for FREE!
Contact with wide-body commercial truck parked partially in traffic lane.
by Erik
(Sacramento CA)
Overhead illustration of how involved vehicles were positioned
A famous "Junk hauling business" truck was parked on the side of a busy two-lane road in San Francisco, in the first spot of a long line of parking spots on that block.

The road has two lanes in either direction, and the truck was blocking about two feet of the #2 lane because where its parking spot is, the lane hadn't "shifted" enough to be at its normal 10'-11' width, leaving slightly less than 8' feet of width in that lane.

I was driving my motorhome in the #2 lane and as I got closer to where the "junk hauling" truck was parked, I noticed it had taken up enough of the lane I was in that I would have to swerve into the #1 lane to avoid contact with it.

Unfortunately there were multiple cars passing me in the #1 lane, preventing me from getting over, and I couldn't stop my 9000-lb motorhome fast enough to completely avoid hitting the back street-side corner of the truck. It clipped my mirror and a vertical awning bracket, completely breaking it off where it bolts the side of the motorhome.

Is it actionably negligent for a driver of a commercial truck to park it on a public road in a way that makes the adjacent traffic lane dangerously too narrow? Is it the responsibility of the driver or the company if the way the vehicle was parked posed a collision risk to traffic and made it necessary for drivers to swerve into another lane to avoid colliding with it?

Do I have a chance to deal with the company's insurance company without involving my own? (I only have PL/PD coverage for this motorhome, since I drive it less than 1500 miles a year and it's usually in secure storage)


Answer:

Hello,

You can make the argument, but you hit a parked vehicle. You had the duty to properly calculate that there is space for you to go (this is enhanced on the driver of motorhome who should know that his/her vehicle may not fit on every road, under every bridge, or be suitable for parking lots.) Also, you have a duty to not move into the other lane if it is unsafe.

The commercial driver could park there if there is a parking space. It is doubtful, but not impossible, that the duty rest on the driver to make sure there is enough space. If such law exists, then they may have some liability (you are still liable in part, as again, you hit a parked vehicle).

The third picture you submitted does who enough space for a "smaller car to go by" as a small car is going next to the junk truck when this picture was taken.

You should talk to an attorney, but you should probably get your own insurance involved.

Good Luck,
http://www.auto-insurance-claim-advice.com/


How Much is Your Case Worth?
Ask a Lawyer Now!
Subscribe to our Free Newsletter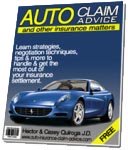 Join our free monthly subscription with tips, news, articles, negotiation techniques, and more about insurance companies and their claim process.
Join in and write your own page! It's easy to do. How? Simply click here to return to Got Questions?.
Please see more answers to recent personal injury and auto accident questions below:
---
For a Free Review of Your Case
Please Call (866) 878-2432
---