Ask an Attorney a Question for FREE!
Engine knocking after accident.
by Grant W.
(Baltimore , MD USA)
I was recently involved in an accident where I was rear ended. The resulting crash pushed me into a tree where my vehicle (2006 Lincoln Navigator) was stuck on a large rock. It had to be towed/pulled off of the rock.

This caused some damage to the under carriage including a hole in the oil pan. The shop where the vehicle is located has informed me that my engine is knocking.

They have yet to do any work on he truck as they are waiting for the adjuster to look at it. I've been told that I now have a knocking sound coming from the engine which suggests damage from running on low/no oil. Prior to the accident I had no such problems. The owner of the shop is telling me that it's hard to tell when the kick developed before/after the accident.

My car was running well up to the accident so why would this be a problem if they have the physical damage to show the cause. I can't afford a replacement. Especially when the one I had was just fine. Should my insurance cover this? Thank you

Answer:

Hello Grant,

Your assessment is correct: the insurance company will argue that this is pre existing or mechanical break down (both not covered) and a great way for them to save money.

It is shocking, actually, the insurance adjusters and their "investigators" and "mechanics" cannot see a correlation between a physical impact and a damage to an engine and/or a transmission. According to them, it is very hard or impossible.

You will have your work cut out for you. Do talk to a lawyer. Be ready to file a complaint with the insurance commissioner or department of insurance.

Those arguments are not uncommon.

You have a duty to show an accident (you did that when you hit the rock), now it's their duty to show that it is not accident related, they must do that by actual having a mechanic state that it is not related.

Again, talk to a lawyer.

Good Luck,
http://www.auto-insurance-claim-advice.com/

Subscribe to our Free Newsletter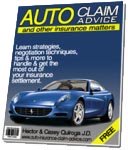 Join our free monthly subscription with tips, news, articles, negotiation techniques, and more about insurance companies and their claim process.
Join in and write your own page! It's easy to do. How? Simply click here to return to Got Questions?.
Please see more answers to recent personal injury and auto accident questions below:
---
For a Free Review of Your Case
Please Call (866) 878-2432
---