Ask an Attorney a Question for FREE!
Fourth statement request after submitting a theft claim and later changing it to a collision claim
by Dina
(Laveen, Arizona, US)
A couple of months ago I submitted a claim. I left my keys locked in the car while parked in my driveway. I figured I would look for my spare key upstairs in my bedroom. I completely forgot about looking for the key until the next morning which I did not find.

I then walked outside and my car was gone. I got really scared and I called the police and reported my car stolen. I called my insurance and they asked me for a recorded statement and later set up an appointment for a second recorded statement along with a written statement.

They then asked me to go in for a third interview for another statement and to take in my phone records.

The night of the incident I happened to have calls coming in and out all night because my ex boyfriend was calling me to go over to his house. I don't know what to do. Should I take the phone records?

I am scared they are going to try to blame me for something I didn't do. The adjuster also told me that the investigation is taking this long due to type of claim and said that a lot of times clients find out it wasn't actually stolen and a family member took it and they change the type of claim into a collision claim.

I told her I would love to change it if that would stop the whole investigation and she then asked me if I did know who had taken my car then and I said I wasn't sure. I now suspect it was my brother but I don't want to get him in trouble I keep asking him if he took it and every time I ask him he gets angry and tells me no, that he would not do that but I think it was him.

Please help me!

Answer:

Hello Dina,

You need to talk to a lawyer. AND you need to be honest with the insurance company. You could be lying to an insurance adjuster for the purposes of coverage. This can be considered fraud. Beware of the adjuster as they are probably very suspicions of everything that is going on.

Again, talk to a lawyer and make sure you are being 100% honest.

Good luck,

http://www.auto-insurance-claim-advice.com/

How Much is Your Case Worth?
Ask a Lawyer Now!
Subscribe to our Free Newsletter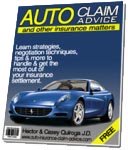 Join our free monthly subscription with tips, news, articles, negotiation techniques, and more about insurance companies and their claim process.
Join in and write your own page! It's easy to do. How? Simply click here to return to Got Questions?.
Please see more answers to recent personal injury and auto accident questions below:
---
For a Free Review of Your Case
Please Call (866) 878-2432
---