Ask an Attorney a Question for FREE!
Friend was driving my truck and got hit, will my insurance still pay claim?
My friend was driving my truck home with me in the passenger seat and got hit while turning left by someone who decided not to stop at the stop sign.

The other driver admitted fault and doesn't have insurance. Will my insurance still let me make a claim if it was my friend driving?

Answer:

Hello,


If you have collision coverage, your claim should be covered so long as this vehicle is not available for his regular use.

The coverage can be granted by an insurance concept referred to as omnibus clause. If you don't have coverage that could help you here is if you have uninsured motorist coverage. That coverage could aid you in this situation.


How Much is Your Case Worth?
Ask a Lawyer Now!
Good Luck,
http://www.auto-insurance-claim-advice.com/
Subscribe to our Free Newsletter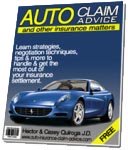 Join our free monthly subscription with tips, news, articles, negotiation techniques, and more about insurance companies and their claim process.
Join in and write your own page! It's easy to do. How? Simply click here to return to Got Questions?.
Please see more answers to recent personal injury and auto accident questions below:
---
For a Free Review of Your Case
Please Call (866) 878-2432
---