Ask an Attorney a Question for FREE!
Hit by a stolen car while parked, both parties have same insurance
by t
(Brooklyn, NY)
My car was parked in front of my house and was hit by a stolen vehicle. The damage to my car was a total loss.

Both the owner of the stolen vehicle and I have the same insurance company, Geico. Geico is getting a deductible from both of us. Is that allowed/fair?

it seems like double dipping to me, especially since I did nothing to cause the accident.


Answer:


Hello,

Geico is covering you under YOUR policy. You are subject to the terms and conditions of YOUR policy. The driver (the thief) likely has no coverage so you have to look for coverage on your own policy. Since you agreed to this deductible when you purchased the policy, you are subject to it. There is nothing unfair about that. It's just how you did the deal.

The deductible the other party is being charged is not for your damages, but their own. They are subject to their own deductible as they agreed when they purchased their policy.



How Much is Your Case Worth?
Ask a Lawyer Now!
As always, it is very important that you talk with a local attorney!
Good Luck,
Auto Insurance Claim Advice
Subscribe to our Free Newsletter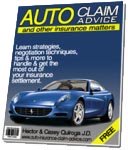 Join our free monthly subscription with tips, news, articles, negotiation techniques, and more about insurance companies and their claim process.
Join in and write your own page! It's easy to do. How? Simply click here to return to Got Questions?.
Please see more answers to recent personal injury and auto accident questions below:
---
For a Free Review of Your Case
Please Call (866) 878-2432
---