Ask an Attorney a Question for FREE!
How do i approach the insurance company?
by Partin
(Georgia)
I had just left work and a driver pulled out in front of me trying to cross the road. I haven't seen the accident report yet because it was a holiday weekend.

I believe she was at fault. she was also arrested for dui. The officer said my truck was probably totaled.

I did not have current insurance on my truck because I didn't make the last payment and the company I was with sends out cancellation notices to cancel the policy if it's not paid on time.

Even without coverage on my vehicle I would think that her insurance would still have to cover the costs if the accident report and the fact that she was drunk clearly say she shouldn't have pulled out when traffic was coming.

I'm curious as to how I should contact her insurance company after I receive the accident report?

Answer:

Hello,

Well, the no insurance should not bar coverage for her negligence.

The DUI will going to be difficult for her or her insurance company to defeat, so in that sense you are covered.

They may still try to put some fault no you for failure to look out or avoid the accident, but that is unlikely.

You will have to contact her insurance company as soon as you can to see if you can get your car paid for. It is important that you get your rental car, etc. You could be waiting for the police report for a long time, so do not wait for that.

Note: You may have coverage still within your policy. There is a grace period and you might of have the accident within that period. Double check on that if you have issues with the other carrier.

I hope this helps.



How Much is Your Case Worth?
Ask a Lawyer Now!
Good Luck,
http://www.auto-insurance-claim-advice.com/
Subscribe to our Free Newsletter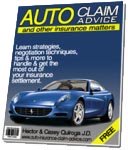 Join our free monthly subscription with tips, news, articles, negotiation techniques, and more about insurance companies and their claim process.
Join in and write your own page! It's easy to do. How? Simply click here to return to Got Questions?.
Please see more answers to recent personal injury and auto accident questions below:
---
For a Free Review of Your Case
Please Call (866) 878-2432
---