Ask an Attorney a Question for FREE!
How to I go about claiming lost wages after an accident
I was just involved in an accident in my husband's car. I was not at fault, but I'm not on my husbands insurance therefore I was unable to get a rental car from the insurance company of the person who hit me. This happened Sunday and I was scheduled to start a new job Monday.

I'm new to the area and don't know anyone so I'm unable to find a way to work. Although I have not started my job yet, am I still able to claim money for lost wages?

Because I'm going to miss out on a weeks pay, at least. More than likely more than a week. Ive never been in a wreck before, how do I do this.

Thank you.


Answer:

Hello Kate,

It is unlikely you can recover lost wages. You have a duty to mitigate your damages and you could find alternate transportation (public transportation).

Please see our section http://www.auto-insurance-claim-advice.com/loss-of-wages.html


How Much is Your Case Worth?
Ask a Lawyer Now!
Subscribe to our Free Newsletter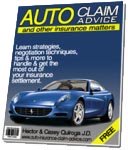 Join our free monthly subscription with tips, news, articles, negotiation techniques, and more about insurance companies and their claim process.
As always, it is very important that you talk with a local attorney!
Good Luck,
Auto Insurance Claim Advice
Join in and write your own page! It's easy to do. How? Simply click here to return to Got Questions?.
Please see more answers to recent personal injury and auto accident questions below:
---
For a Free Review of Your Case
Please Call (866) 878-2432
---