Ask an Attorney a Question for FREE!
How will they assign fault?
Three days ago my wife was coming to a stop at a red light. A young man behind her failed to slow down in time and crashed into the back of her car.

We called his insurance company about getting a rental car and they said they could only cover it if they knew it was his fault. He admitted it was his fault, even to the police officer. The officer couldn't write a report though because he was a deputy and it happened in city limits.

Anyway, it's been three days and his company (progressive) is saying they can't contact him to see who is at fault.

My question is, since it seems cut and dry as to who was at fault, is it probable that they will reimburse for our car rental?

Answer:


Hello,

It is probable. However, it may take a few weeks before they will determine that it is his fault. The insurance company does have a duty to contact him since there is no report.

You can write a letter to the insurance company telling them that you cannot mitigate your damages and that you will have to incur rental expenses until they adjudicate fault.

This is usually a good strategy as you will be telling the insurance company that the damages will be larger if they do not move faster and make a determination



How Much is Your Case Worth?
Ask a Lawyer Now!
As always, it is very important that you talk with a local attorney!
Good Luck,
Auto Insurance Claim Advice
Subscribe to our Free Newsletter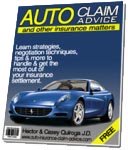 Join our free monthly subscription with tips, news, articles, negotiation techniques, and more about insurance companies and their claim process.
Join in and write your own page! It's easy to do. How? Simply click here to return to Got Questions?.
Please see more answers to recent personal injury and auto accident questions below:
---
For a Free Review of Your Case
Please Call (866) 878-2432
---