Ask an Attorney a Question for FREE!
I rented a car and my friend took the car and done the accident
by Srikanth
(Louisville, KY)
I took a rental car from enterprise with complete insurance under my name and my friend drove in the parking lot or in our apartments road. He done an accident by hitting a wall of the house inside the apartments.

Enterprise told me that since driver is different than the owner of the car.....what is the best way to deal with vehicle damages as insurance isn't applicable because I'm the owner of that rental car and my friend is the driver of the car who met with accident. Also, who'll pay the charges to the apartments because there's a damage on the house wall and they need to fill that patch.

We' are in a nervous mood of how to resolve these things.

Answer:

Well, this is complicated without more facts. Did you buy "extra" insurance from enterprise? if you did, what does the contract say, sometimes they exclude other drivers sometimes they don't. Be sure to read the provision.

You are liable under the contract for the accident, so your insurance company may provide coverage for that. Your friend's insurance company may also provide coverage. You can file against all policies and see which insurance company would end up paying.

It is advised that you talk to an attorney.

Good Luck,
http://www.auto-insurance-claim-advice.com/

How Much is Your Case Worth?
Ask a Lawyer Now!
Subscribe to our Free Newsletter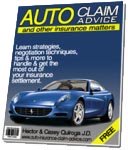 Join our free monthly subscription with tips, news, articles, negotiation techniques, and more about insurance companies and their claim process.
Join in and write your own page! It's easy to do. How? Simply click here to return to Got Questions?.
Please see more answers to recent personal injury and auto accident questions below:
---
For a Free Review of Your Case
Please Call (866) 878-2432
---