Ask an Attorney a Question for FREE!
If I give someone with a license permission to drive my car without the knowledge that they are not covered under any car insurance policy am I responsible for damage?
by Harvey
(Atlanta Ga)
I allowed a friend of mine to drive my car while I was in the passenger seat because I was tired and she ended up getting into an accident. Who is responsible for the damage? The problem is she is not covered on either of her parents insurance.


Answer:


Hello Harvey,

Fault / responsibility and insurance coverage are two different things.

The driver is responsible for talking the vehicle. The insurance company of the vehicle would be primary insurance. If you have no insurance on that vehicle, then the insurance company of the driver would be secondary.

Note: simply because she is not "listed" does not mean she is not covered. She may be cover as a "family member." This is a different coverage question. Contact her insurance company and see if there is coverage there.


How Much is Your Case Worth?
Ask a Lawyer Now!
As always, it is very important that you talk with a local attorney!
Good Luck,
Auto Insurance Claim Advice
Subscribe to our Free Newsletter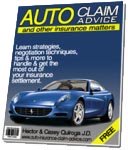 Join our free monthly subscription with tips, news, articles, negotiation techniques, and more about insurance companies and their claim process.
Join in and write your own page! It's easy to do. How? Simply click here to return to Got Questions?.
Please see more answers to recent personal injury and auto accident questions below:
---
For a Free Review of Your Case
Please Call (866) 878-2432
---