Ask an Attorney a Question for FREE!
insurance company have the right to recover sales tax
I was in a hit and run accident in May 2011. My insurance paid my deductible back to me, paid cash value of car, license and title fees, and taxes.

We received a letter from the insurance stating, "under Ohio law, insurance companies have the right to recover sales tax if a replacement vehicle is purchased within 30 days of today.(letter is dated May 25,2011).

We bought the car within the 30 days and submitted our proof as requested. Now, they tell us ...the letter was referring to them recouping their money and is not due us.

Please advise.

Answer:


Hello ,

We have not a clue what Ohio does. Contact a lawyer.



How Much is Your Case Worth?
Ask a Lawyer Now!
As always, it is very important that you talk with a local attorney!
Good Luck,
Auto Insurance Claim Advice
Subscribe to our Free Newsletter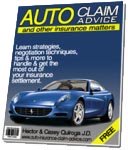 Join our free monthly subscription with tips, news, articles, negotiation techniques, and more about insurance companies and their claim process.
Join in and write your own page! It's easy to do. How? Simply click here to return to Got Questions?.
Please see more answers to recent personal injury and auto accident questions below:
---
For a Free Review of Your Case
Please Call (866) 878-2432
---