Ask an Attorney a Question for FREE!
Is it my fault?
by Jay
My car was parked on the left hand side of the road and I pulled out into the road. I looked in the mirror and the car approaching from behind looked pretty far to me so I pulled out but it must have been in speed as I heard sharp braking from behind. I braked hearing the noise but decided to carry on and as soon as I picked up speed the car behind me hit me in the back.

It was a soft brush and we both stopped. My car didn't suffer any damage but his had a couple of minor scratches on the curve of his passenger side wing.

I am a young driver and because I didn't want it to go to insurance so I told other driver I would pay for the damage if he took it to a local garage. Im not sure how much of it would be his fault or mine?

Answer:


Hello Jay,

Your are likely at fault. You want your insurance to determine how much. You should never pull out when it is not safe. The accident is evidence that you fail to exercise good judgment.

Now, the fact that the other driver hit your from behind will help your cause.

Talk to your insurance company if you want to dispute fault.


How Much is Your Case Worth?
Ask a Lawyer Now!
As always, it is very important that you talk with a local attorney!
Good Luck,
Auto Insurance Claim Advice
Subscribe to our Free Newsletter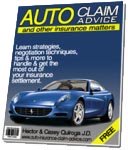 Join our free monthly subscription with tips, news, articles, negotiation techniques, and more about insurance companies and their claim process.
Join in and write your own page! It's easy to do. How? Simply click here to return to Got Questions?.
Please see more answers to recent personal injury and auto accident questions below:
---
For a Free Review of Your Case
Please Call (866) 878-2432
---