Ask an Attorney a Question for FREE!
Is it possible my insurance premium will increase upon renewal ?
by Mr. B
I rear ended someone before a stop sign in a parking lot. The speed was hardly 10km/hr. The car in front of me suddenly braked even before approaching the stop sign. I was inch too close. Wasn't accelerating, so there wasn't any damage to her car and hardly any scratch.

We exchanged insurance details. She sent me the quote the other day which was around $700 for nothing !! It was apparent to me, she was trying to fix scratches on her rear bumper, that she had before our collision, out of my money.

If she send claim to the insurance, will the company pay for the amount ? Will my insurance premium go up on my next renewal, even with such a small claim ? Does it reflect on my license as any demerit ? Just to add, there were no cops involved as incident was so minor. Please advice.

Answer:


Hello Mr. B,

All claims will affect your insurance / driver rating. Will it go up? Probably. How much? We do not know. It maybe a few dollars or more. If you have a clean history, then this is why you have insurance and should not worry about your increase. If you have many claims or claims within a small period of time, then you will have an issue.



How Much is Your Case Worth?
Ask a Lawyer Now!
As always, it is very important that you talk with a local attorney!
Good Luck,
Auto Insurance Claim Advice
Subscribe to our Free Newsletter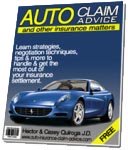 Join our free monthly subscription with tips, news, articles, negotiation techniques, and more about insurance companies and their claim process.
Join in and write your own page! It's easy to do. How? Simply click here to return to Got Questions?.
Please see more answers to recent personal injury and auto accident questions below:
---
For a Free Review of Your Case
Please Call (866) 878-2432
---