Ask an Attorney a Question for FREE!
Is my car covered???
by Carolyn
(Texas)
I loaned my car to my daughter so she could get to work since her car was down this day. She got into a accident and the police were called and a police report was filled.

The question is my insurance company is denying to get the damages fixed due to my daughter was not listed on my insurance policy.

The car had full coverage on it and it happened in Texas. What should I DO? I thought full coverage covered the car no matter who is driving???

Answer:


Hello Carolyn,

You need to look up the "omnibus clause." Is your daughter a member of the household (she lives with you?) Does she have access to this vehicle or is available to the her regular use?

Answers to these questions are very important. Please contact an attorney to help you with this claim. Ask the insurance company to put the denial in writing.



How Much is Your Case Worth?
Ask a Lawyer Now!
As always, it is very important that you talk with a local attorney!
Good Luck,
Auto Insurance Claim Advice
Subscribe to our Free Newsletter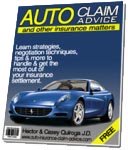 Join our free monthly subscription with tips, news, articles, negotiation techniques, and more about insurance companies and their claim process.
Join in and write your own page! It's easy to do. How? Simply click here to return to Got Questions?.
Please see more answers to recent personal injury and auto accident questions below:
---
For a Free Review of Your Case
Please Call (866) 878-2432
---