Ask an Attorney a Question for FREE!
My parked car was hit in my apartment building's parking lot. If I can't find out who did it should the building owner be responsible for paying for the damages?
by Stephanie
(Los Angeles, CA)
I was parked in my space and someone hit my car severely denting in the bumper and they did not leave a note.

It's a gated lot for tenants only so it was most likely someone who lives in my building that did it, however there is a possibility my car was damaged by someone's guest.

In any case, If I cannot find out who is responsible is it possible to expect that the building owner should pay for the damages under their liability insurance?

Answer:

Most likely not. The building manager or the complex owner did not damage your car. It is foreseeable that your car gets hit in a parking lot. In addition, it is likely that you lease excludes liability for the building owner.

Consult with an attorney.

Good Luck
http://www.auto-insurance-claim-advice.com/


Subscribe to our Free Newsletter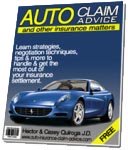 Join our free monthly subscription with tips, news, articles, negotiation techniques, and more about insurance companies and their claim process.
Join in and write your own page! It's easy to do. How? Simply click here to return to Got Questions?.
Please see more answers to recent personal injury and auto accident questions below:
---
For a Free Review of Your Case
Please Call (866) 878-2432
---