Ask an Attorney a Question for FREE!
Nationwide stolen car claim denied
by Trev
(nyc)
My car was parked by my girlfriends house on 12.9.10 and I woke up 12.10.10 and my vehicle was not there. I called the police and was told to contact towing companies in the neighhood to see if the towed my car and that i cannot file a stolen car report without a copy of the registration. This was a Saturday morning.

The following business day I got a copy of the registration from dmv and reported the vehicle stolen. I then called the insurance company and reported the vehicle stolen. On 12.19.10 my vehicle was recovered from a tow yard that said they picked up the vehicle crashed and abondoned since 12.11.10.
I gave the insurance company all the information about the vehicle. i purchased the vehicle from Craigslist with a shot motor in 2007 and i only received one key which I told the insurance company and i submitted to them. The insurance company wanted access to all my finances and phone records which i gave them.

They Interviewed me 4 times and told me that they were going to complete a forensic test on the key and ignition which I was then told by the investigator that he believes that i was not in that car that night and that another key was used to start the car, not the key i submitted.
Nationwide denied my claim stating that the vehicle come with 2 transponder keys and one valet key which they key I submitted was not the last key used to start the vehicle and that the key used was none of the trasponder key.

How do I prove I have no other key when I'm constantly stating on record that i only had one key since owning the car. Yet they say another key was used....of course another key was used, that's how it got stolen.

My attorney sent a letter to the state to pick up the case.. any advice? I bought the car and did not have any loans or debt from the vehicle. I fully owned the vehicle and it was insured and fully covered. The vehicle was a 2006 civic ex coupe manual transmission with 40.000 miles. Another thing is that i had to pick my vehicle up from the insurance lot and my vehicle is missing the ignition. Why are they holding onto my property?

Please advise.

Answer:

Hello Trev,

Well, you have a lawyer where you live. That person knows the local laws. They need to help you with this or you need another lawyer.

You can look at a coverage investigation and then maybe a suit for bad faith. Again, your lawyer is the best person to aid on this.

Good Luck,
http://www.auto-insurance-claim-advice.com/

Subscribe to our Free Newsletter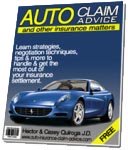 Join our free monthly subscription with tips, news, articles, negotiation techniques, and more about insurance companies and their claim process.
Join in and write your own page! It's easy to do. How? Simply click here to return to Got Questions?.
Please see more answers to recent personal injury and auto accident questions below:
---
For a Free Review of Your Case
Please Call (866) 878-2432
---