Ask an Attorney a Question for FREE!
No insurance, no drivers license, but not at fault of car accedent
by Rubi
(Newark, ca)

I got in a car accident when I was pulling into my friends driveway, the girl that hit me damaged the back of the car on the driers side on the tire.

My friends house has security cameras and I have valid proof that she was at fault because in the video the girl was in the middle of the road. I believe she was texting while she was driving and didn't pay attention was I started to slow down to make a left turn for the driveway.

The problem is that I don't have my driver's license and my mom doesn't have insurance for the car. What can I do?


Answer:


Hello Rubi,

You have an issue here. You are not supposed to be driving the car. The car is not insured and this is a substantial violation of California statues.

You want to talk to an attorney about this. There may not be any coverage for you.



How Much is Your Case Worth?
Ask a Lawyer Now!
As always, it is very important that you talk with a local attorney!
Good Luck,
Auto Insurance Claim Advice
Subscribe to our Free Newsletter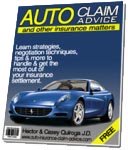 Join our free monthly subscription with tips, news, articles, negotiation techniques, and more about insurance companies and their claim process.
Join in and write your own page! It's easy to do. How? Simply click here to return to Got Questions?.
Please see more answers to recent personal injury and auto accident questions below:
---
For a Free Review of Your Case
Please Call (866) 878-2432
---