Ask an Attorney a Question for FREE!
One person accident.
by Lorreta
(Bellingham, WA, USA)
In 2009, while I was pregnant with my son, I had an accident with a car that I rented from "Enterprise Rent a Car" I paid for full insurance coverage for the car (required), I was the only one involved in the accident because the Right front wheel of the car suddenly busted/blew up while I was driving.

My 2 year old daughter was in the car at the time but was not hurt. I was very hurt because my seven month pregnant Tommy hit the steering and I started having some contractions at the scene. Some good Samaritans stopped and called 911 and I was rushed to the hospital.

I stayed at the hospital for about 5-6 hours before I was discharged and was asked to get regular checkups. The DSHS health insurance I had at the time covered all my medical and Ambulance bills. I did not file any claim because I was embarrassed by having an accident with a car that did not belong to me.

My question is,IS IT TOO LATE TO FILE NOW? and CAN I CLAIM ANY DAMAGES?.

Thanks

Answer:


Hello Lorreta,

It's not too late, but YOU ARE STRONGLY encourage to talk to a Washington lawyer before you file the claim. There may be recovery available to you against Enterprise, so you do need legal advice. Your 2 year daughter may also have recovery against your policy and/or Enterprise.

Please contact an attorney. Please see below.


How Much is Your Case Worth?
Ask a Lawyer Now!
Good Luck,
http://www.auto-insurance-claim-advice.com/
Subscribe to our Free Newsletter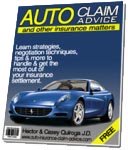 Join our free monthly subscription with tips, news, articles, negotiation techniques, and more about insurance companies and their claim process.
Join in and write your own page! It's easy to do. How? Simply click here to return to Got Questions?.
Please see more answers to recent personal injury and auto accident questions below:
---
For a Free Review of Your Case
Please Call (866) 878-2432
---