Ask an Attorney a Question for FREE!
Payment to repair my car
My wife and I live in N.Y. State. A driver crossed a double yellow line and side-swiped my wife's car. He did not stop and left the scene. He was caught by the police a few minutes later.

Now, he accepts full responsibility for the accident.

I do not know if he was arrested or if he merely received a summons for leaving the scene of an accident. Both parties are covered by the same insurance carrier, Geico. The insurance adjuster states that the cost of the repair would exceed 75% of the book value of the car.

He claims that N.Y. State law prevents him from repairing the car. He says that it has to be declared totaled. This prevents an inconvenience for us. We want the car repaired. Is he correct about N.Y. State law? Wouldn't the other driver's liability insurance cover the total cost of the repairs (the total cost of the repairs are less than the book value of the car)?
Please assist.

If we sue the other driver what are our chances of recovering an amount that would cover the cost of repair plus any additional court costs and lawyer's fees? Thanks.


Answer:

Hello,

I am sorry to hear that. Well, you cannot force the repair of the vehicle. We do not know what New York law say about total loss.

You want to contact a local attorney for that. However, most states only state that the repairs cannot exceed the fair market value of the vehicle.

The 75% figure is derived by looking at what they think they may have to repair, and the likely hidden damage after that (which will likely be more than 25%, making the cost for the insurance company higher).

In other words, it is often an insurance business decision, not a "legal one."

Ask the insurance company to show you (quote you the law) that states that 75% is the amount or the threshold to total a car.

Please also see our notes on that subject here:

http://www.auto-insurance-claim-advice.com/car-totaled.html


How Much is Your Case Worth?
Ask a Lawyer Now!
Good Luck
http://www.auto-insurance-claim-advice.com/
Subscribe to our Free Newsletter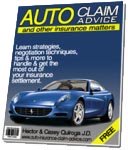 Join our free monthly subscription with tips, news, articles, negotiation techniques, and more about insurance companies and their claim process.
Join in and write your own page! It's easy to do. How? Simply click here to return to Got Questions?.
Please see more answers to recent personal injury and auto accident questions below:
---
For a Free Review of Your Case
Please Call (866) 878-2432
---