Ask an Attorney a Question for FREE!
Police report state's other driver at fault. other dirvers insurance state's 80/20
by Brian
(lockeford ca)
My wife was in the left hand lane of a two lane turn the other driver was in the right. On completion of the turn the right lane merges into the left about 100 feet out. The driven in the right lane made an unsafe lane change into my wife's car.

Police report states the other driver was at fault. Under cause on the police report "The cause for this collision was based upon the statements of both parties, the damage to both parties and the circumstances surrounding this incident.

P-1is at fault for this collision and is in violation of 21658 (a) VC- unsafe lane change." (P-1 = the other driver. his insurance company is state's that's my wife is 80% at fault is unwilling to pay for damages even though the police report clearly state's whose at fault.

What are my options at this point. do I take the driver to small claims to get reimbursement? or do I have some other recourse with the insurance company to get the damages paid for? the accident took place in Lockeford ca.

Answer:

Hello Brian,

You need to get your insurance company involved. If your wife is 80% at fault, then she (and you – California is a community property state) will have to pay the damages to the other party.

Your insurance company will have to do an investigation and determine fault. They will have to take sort it out with the other insurance company. If they cannot, they will likely go to mandatory arbitration where a third neutral will decide this.

The police report is strong evidence for you, so you should talk to your carrier and a local attorney.


How Much is Your Case Worth?
Ask a Lawyer Now!
Good Luck,
http://www.auto-insurance-claim-advice.com/
Subscribe to our Free Newsletter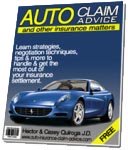 Join our free monthly subscription with tips, news, articles, negotiation techniques, and more about insurance companies and their claim process.
Join in and write your own page! It's easy to do. How? Simply click here to return to Got Questions?.
Please see more answers to recent personal injury and auto accident questions below:
---
For a Free Review of Your Case
Please Call (866) 878-2432
---