Ask an Attorney a Question for FREE!
Possible consequences for me
The office building where I work is located off the county road(on the side of the traffic coming from the opposite direction). lanes are separated by two yellow lines so the left turn is illegal however everyone turns there because going around is extra 1.5 miles.

Having put on the blinker appr. 200 feet prior to the turn I started slowing down coming to a complete stop. The car was coming from the other side so I had to wait. There was a huge commercial truck going behind me. I haven't started making the turn yet i.e. i was standing in the lane after a gradual reduction in speed. The truck driver however did not start to slow down and when he started it was already too late so he hit the rear part of the car. Police was summoned and we moved to the parking lot located in the office area. The police took a report and now I got a subpoena to testify on behalf of state against the truck driver's company. There was no indication regarding my fault or my getting a ticket from the police on site of the accident.

My car is an old Honda and according to the preliminary estimates, the cost of repairing is equal to the cost of the car. I am just trying to understand the possible consequences if I actually may be getting a ticket and/or if there is a chance for me to get reimbursement for the repair expenses.

I would really appreciate any comments.

Thank you

Answer:

Hello ,

Relax, you are the witness for the police. Likely, the truck driver is disputing the facts and probably claiming that you caused the accident. You are the evidence for the ticket they got, so you showing up will only help you.

If you don't show, the police/prosecution may have to drop his ticket.

Contact with an attorney.

How Much is Your Case Worth?
Ask a Lawyer Now!
Good luck,
http://www.auto-insurance-claim-advice.com/
Subscribe to our Free Newsletter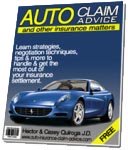 Join our free monthly subscription with tips, news, articles, negotiation techniques, and more about insurance companies and their claim process.
Join in and write your own page! It's easy to do. How? Simply click here to return to Got Questions?.
Please see more answers to recent personal injury and auto accident questions below:
---
For a Free Review of Your Case
Please Call (866) 878-2432
---