Ask an Attorney a Question for FREE!
Progressive only wants to give us the average price of our car, but we had a top of the line vehicle that was totaled.
We had a 1993 pristine Lincoln town car 85,000 miles not a ding in it.. We hit a deer and Progressive totaled it.

Now they only want to give us the "average" blue book price, that doesn't even cover the cost of the insurance we have paid on the car. Do we have any leverage?



Answer:

Hello,

Well, pristine is good or excellent condition. Town cars do depreciate a lot, so you may not have a good settlement. That is the problem with vehicles that lose a lot of value, the depreciation will kill you, see our section on total loss and damages here: http://www.auto-insurance-claim-advice.com/totaling-a-vehicle.html

You may be able to increase your settlement by a little, but just keep that on mind.

Good luck,

http://www.auto-insurance-claim-advice.com/



How Much is Your Case Worth?
Ask a Lawyer Now!
Subscribe to our Free Newsletter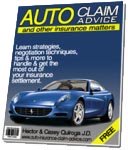 Join our free monthly subscription with tips, news, articles, negotiation techniques, and more about insurance companies and their claim process.
Join in and write your own page! It's easy to do. How? Simply click here to return to Got Questions?.
Please see more answers to recent personal injury and auto accident questions below:
---
For a Free Review of Your Case
Please Call (866) 878-2432
---