Ask an Attorney a Question for FREE!
Rear End Collision
I rear ended someone at a stop sign. I wasn't paying attention and inched too close. Wasn't accelerating, so there wasn't any damage to her car and just a broken headlight on my car.

She said she was in a hurry so just asked for my name and number, but said she didn't think there would be a problem because there was no damage to her car.

So we didn't report it to the cops. She called me 3 hours later and said now her neck hurts. We're meeting today to file a claim. I've been super cooperative. What will happen?

Answer:

Hello,

Well, you want to get your insurance company involved and have them handle this. There is not much you can do other than cooperate. She will file an injury claim and your insurance company will have to defend you and ensure that it is legitimate and has grounds.

If you have the proper coverage, they will handle her medical bills and her pain and suffering.

I hope this helps.


How Much is Your Case Worth?
Ask a Lawyer Now!
Good luck,
http://www.auto-insurance-claim-advice.com/
Subscribe to our Free Newsletter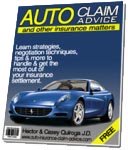 Join our free monthly subscription with tips, news, articles, negotiation techniques, and more about insurance companies and their claim process.
Join in and write your own page! It's easy to do. How? Simply click here to return to Got Questions?.
Please see more answers to recent personal injury and auto accident questions below:
---
For a Free Review of Your Case
Please Call (866) 878-2432
---