Ask an Attorney a Question for FREE!
Rear-End Collision
by Kay
I was driving in stop and go bumper to bumper making a turn, and driving a Toyota Avalon, I hit the pick up truck in front of me. I wasn't going any more than 10 MPH, but the trailer hitch on his truck hit into my bumper, and it needs to be replaced.

The driver of the truck is an older gentleman, and is now making an insurance claim for an injury.
What will happen? Will my insurance go up, will I have to pay a hefty fine for this?
I'm only 17, so I'm not really sure how this all works just yet.

Any help would be great!


Answer:


Hello Kay,

You will not get a "fine" unless the police came to the scene and gave you a ticket.

Your insurance premium may go up, depending of your claim history and if you had other accidents. If this is the first claim, then your insurance may go up only a little. Not enough to worry about. However, since you are younger it could affect you more than the average.

The injury claim will likely be settle without much issue.


How Much is Your Case Worth?
Ask a Lawyer Now!
As always, it is very important that you talk with a local attorney!
Good Luck,
Auto Insurance Claim Advice
Subscribe to our Free Newsletter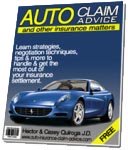 Join our free monthly subscription with tips, news, articles, negotiation techniques, and more about insurance companies and their claim process.
Join in and write your own page! It's easy to do. How? Simply click here to return to Got Questions?.
Please see more answers to recent personal injury and auto accident questions below:
---
For a Free Review of Your Case
Please Call (866) 878-2432
---