Ask an Attorney a Question for FREE!
Recently had my car stolen borrowed my father in laws car
by Lo Diamond
(Los angeles, ca)
Got in a slight fender binder with my father in laws car, When I mean slight, it was literally a tap to the guys bumper, we were at a constant stop to merge on to a blvd. he moved over the stop sign and I progressed to move up to it, and he slamed on his brakes, which I bummed him slightly. He had previous damage to his bumper, he had a 93 camry I had a hydaui accent.

My car had no scratch or paint removed. Regardless. I gave him MY insurance card, since I figured I am covered with mine. Well when he got my info down I asked him if I could see his, and he told me to hold on while he writes my info first so I was waiting, then he decides to take pictures and then grabs his insurance paper, which looked fraudulent...but who knows.

The insurance paper said it was expired but I continued to write down the info, also his tags were expired and smog check month expired. then he tells me we dont have to go through insurance just have your father in law call me. then I said call the police to make a report , he said they wont come if there is no injuries or 1,000 over damages... so I said okay I took a picture and he took off fast, I believe he purposely gave me his items last so I would not be able to take pictures. Then he also claimed I caused all the previous damage he had on his bumper. Then awhile later he texted me threathing me.. that he is going to see a doctor for back pain.

He continued to text me for three days saying he will file a claim if he doesn't get his money for the bumper. Well all this is happening im ignoring him, and find out he filed a claim that day. He still continued to text me to get money out of me, even though he already filed the claim. He opened a claim with my insurance ... and now my insurance is saying that I have to first go through my father in laws insurance, but my father in law said no, hes been with that company 15 years and he does not want to do that. So he refuses to file a claim for me, because I used the car and ..he says no. So my question is... what the hell do I do now??

I am stressed because as it is my car was stolen and I use my father in laws car and get in a slight finder. HELP!

If he doesn't want to give me info... what do I tell my insurance, and I don't want to ruin his reputation with his insurance company... I feel bad... the claim is still open with my insurance, but they are askig that I file with my father in laws first, but that isn't goin to happen, because he doesn't want that.

This guy is claiming he has back pain now..and that it will cost 740 $ when I barely even tap'd the guy! help! help!


Answer:

Hello Lo Diamond,


You need a lawyer.

California law may not allow him to recover for any damages if he does not have an actual policy. Also, why are you so stressed out, you have potentially two policies, yours and your father in law? That's why you have insurance for, regardless of the prior claim history, you may want to get them involved.

Good Luck,
http://www.auto-insurance-claim-advice.com/

Subscribe to our Free Newsletter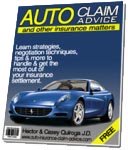 Join our free monthly subscription with tips, news, articles, negotiation techniques, and more about insurance companies and their claim process.
Join in and write your own page! It's easy to do. How? Simply click here to return to Got Questions?.
Please see more answers to recent personal injury and auto accident questions below:
---
For a Free Review of Your Case
Please Call (866) 878-2432
---