Ask an Attorney a Question for FREE!
Responsible insurance company has determined that repair to my car is less than the value which ranges between $5000/$6000
by Kate
(Fl)
I cannot replace this car for that amount. I know the car and what I have put into it, more than $3000 which would make this Saab last for many more years based on the condition prior to the accident which damaged the front end some but while the cosmetic damage is not too bad it ruined the ac and the front head lights and hood... these are very expensive parts retail.

Must I accept the "totaled" decision or can I request the replacement value and get the car fixed myself.

I may not be able to get all the cosmetic work done to it's original condition but the rest I could and if it's considered totaled they would take the titled and I would have to purchase it back at salvage rates so I have been told. My question..can I negotiate based on the replacement value?



Answer:

Hello Kate,

I am sorry to hear your situation. The insurance company owes you actual cash value not replacement cost unless you have a very special policy which agrees to pay your replacement cost (very unlikely – usually only for documented classics).

Please see this eBook



How Much is Your Case Worth?
Ask a Lawyer Now!
Subscribe to our Free Newsletter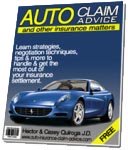 Join our free monthly subscription with tips, news, articles, negotiation techniques, and more about insurance companies and their claim process.
As always, it is very important that you talk with a local attorney!
Good Luck,
Auto Insurance Claim Advice
Join in and write your own page! It's easy to do. How? Simply click here to return to Got Questions?.
Please see more answers to recent personal injury and auto accident questions below:
---
For a Free Review of Your Case
Please Call (866) 878-2432
---