Ask an Attorney a Question for FREE!
The other driver does not want to get the Insurance Company involved.
by Melissa
(Georgia)
I was on my way home when I was getting ready to make a right turn at an intersection when suddenly the car in front of me just stopped.

Luckily for me I was not following too close behind so I had enough room to stop. But the person behind me did not. He had a massive 06 Ford Truck that rear ended the right side pushing out my bumper, busting my break lights, and bending the right side of my trunk door. He was actually quite cordial and apologetic.

It was my first time in an accident so I was not sure what to do. I did not call the police because he said there was no need. So we exchanged information fully and we both happen to have the same insurance company. Now the owner (the driver's parent)is asking to not get the insurance company involved by having an adjuster come out to assessment the damage and he will pay for it out of pocket.

My question is this a good idea? Should I and my mother (the written owner of my car)agree to that or should we insist on having the insurance company deal with it? They seem like honest people and they could have good intentions but I have never been in this situation before so I don't know if this is some kind of trick?

Also will the insurance send my car somewhere to be fixed or will they just send me a check?


Answer:

Well, you should contact your insurance company. This will secure coverage in case they don't want to pay or they think your damages are too high.

Also, they insurance company will help you (could help you) with the proper repairs for your car and give you a rental car for the days that your car will be out of commission for the repairs.


How Much is Your Case Worth?
Ask a Lawyer Now!
Good Luck,
http://www.auto-insurance-claim-advice.com/
Subscribe to our Free Newsletter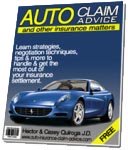 Join our free monthly subscription with tips, news, articles, negotiation techniques, and more about insurance companies and their claim process.
Join in and write your own page! It's easy to do. How? Simply click here to return to Got Questions?.
Please see more answers to recent personal injury and auto accident questions below:
---
For a Free Review of Your Case
Please Call (866) 878-2432
---