Ask an Attorney a Question for FREE!
They are not insured or licensed | What to do?
My wife was stopping due to red light the car behind her apparently was not paying attention and hit my wife in the rear-end.

The police ticketed her and said she was at fault. i spoke to her and she does not think she has insurance but the vehicle is not in her name. its in her mothers but she admits she has been the one driving it.

I spoke to my insurance and they said they would cover but I have a deductable. They would try to go after this person for it but will not until all is done.

Now I don't know what to do because we don't have deductable and are still waiting for all info so my wife can get her back checked out more since it is hurting she did go to emergency room after accident and has a stain in neck.

I do not know what to do because person that hit me is at fault should I have to pay anything and also how do I explain to insurance I might need money for future medical expenses and pain and suffering.
Also if i should submit the other driver to anyone because come to find out she is on probation for driving without a license.

Also my insurance said they cant do anything for at least a week because of a police report to verify she doesn't have insurance but wife needs medical treatment now. is there any timeline on this medical treatment and is there any way I can verify she does not have insurance and she is not saying that so its not submitted to them this happened in Trotwood Ohio.

Answer:

Hello,
Well, your insurance company does not owe for pain and suffering. This s only paid by the other person or their insurance if they have one. You may have uninsured motorist coverage, and that coverage could cover your wife's pain and suffering and damages.

However, if the other party has not coverage, you may have to use your insurance and eat the deductible. That is why you have insurance.

If you have pip or medical payments coverage, then your medical bills should be paid for, so long as they are reasonable and necessary.

Judging by your question, you should consider talk to an attorney to speed up the process and see if you have coverage within your own policy or there is collectable insurance prior determining that this is all your loss.


How Much is Your Case Worth?
Ask a Lawyer Now!
I hope this helps.
Good Luck,
http://www.auto-insurance-claim-advice.com/
Subscribe to our Free Newsletter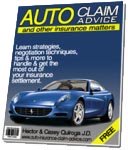 Join our free monthly subscription with tips, news, articles, negotiation techniques, and more about insurance companies and their claim process.
Join in and write your own page! It's easy to do. How? Simply click here to return to Got Questions?.
Please see more answers to recent personal injury and auto accident questions below:
---
For a Free Review of Your Case
Please Call (866) 878-2432
---