Ask an Attorney a Question for FREE!
They stole a car and wrecked my life. HELP.
Some kids stole a car, were involved in a police chase, lost control of their vehicle and smashed into my parked car, probably totaling it. Both cars were towed by the police and I have since obtained the police report. This would be a no-brainer claim if it weren't for the following:

- I was insured in OH but, due to economic hardship, had to let my insurance lapse two weeks before the accident.

-I'm living in NJ now (which is where the accident occurred) and I'm in the process of transferring over my license, plates etc. (also part of the reason I let my insurance lapse)

I know it was stupid of me to let my insurance lapse but I also stopped driving the car at the same time, and only had it parked on the street. I've also reinstated my insurance since the accident.

Since the driver of the stolen car is 19 and probably without any money, I have no idea how to go about getting restitution for my property damaged during this crime. This is my only mode of transportation and I'm lost, to say the least, without it.

Any advice would be greatly appreciated.

-In dire straits.

Answer:

Hello In dire straits,

There is a big possibility that there is no coverage for this accident. This is the reason why you have insurance, to protect you against this type of risk.

The issue here is that the teen's insurance company (or their parents) likely do not cover for damages from accidents occurring from "non permissive" use. Since the car was stolen, you will likely have to cover your damages for yourself.

Talk to a local attorney for more information about your local regulations and laws.

Good Luck
http://www.auto-insurance-claim-advice.com/


How Much is Your Case Worth?
Ask a Lawyer Now!
Subscribe to our Free Newsletter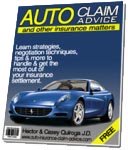 Join our free monthly subscription with tips, news, articles, negotiation techniques, and more about insurance companies and their claim process.
Join in and write your own page! It's easy to do. How? Simply click here to return to Got Questions?.
Please see more answers to recent personal injury and auto accident questions below:
---
For a Free Review of Your Case
Please Call (866) 878-2432
---