Ask an Attorney a Question for FREE!
Tie rod broke caused a accident

(Easton PA)
On my way home last night my tie rod broke on my 2006 Toyota scion causing me to jump a curve resulting in damaging the car under neat and scratching the paint on my car will my full coverage insurance pay for it there was no cop I called a tow truck and had it towed.

Answer:

Hello,

Assuming you have collision coverage ( you stated you have full coverage).... the answer is most likely not.

"Mechanical Breakdown" is not covered under your policy. If your vehicle breaks down, then you are on your own. If the breakdown causes some extra damage, like the one you describe, there may be a possibility that the ensuing damage is covered. However, the tie rod will not.

If the damages are expensive enough, then it maybe worth your time dealing with the insurance company.

Good Luck
http://www.auto-insurance-claim-advice.com/

How Much is Your Case Worth?
Ask a Lawyer Now!
Subscribe to our Free Newsletter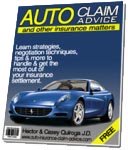 Join our free monthly subscription with tips, news, articles, negotiation techniques, and more about insurance companies and their claim process.
Join in and write your own page! It's easy to do. How? Simply click here to return to Got Questions?.
Please see more answers to recent personal injury and auto accident questions below:
---
For a Free Review of Your Case
Please Call (866) 878-2432
---