Ask an Attorney a Question for FREE!
Two different deductables
by Johnny
(TX)
Drove my vehicle with full coverage into fence and gate on my mother's property, where I also live. my name not on home owners policy or deed. We are both on same auto insurance policy. Shouldn't my auto insurance cover damage to her property and my vehicle?

Insurance Company wants me to file the property damage on her home owner's insurance. And a separate claim for car on my auto insurance is this typical way this is handled.


Answer:

Hello Johnny,

Nope, that's not right, you have it correctly – with a disclaimer.

Your liability coverage should cover the damage to the property. They will pay the actual cash value (not replacement cost). They will get and estimate and pay the estimate. Once the actual repair is done, then your policy will have to pay for the difference (between the estimate and the final repair bill), making her whole.

The issue here is more difficult if your limit of liability is lower than the cost of repair. Check on that. If your limit is too low, and her repair is more than the limit, then she will have to look for her home owners insurance.

Two things you need to know about that. (1) there will be a second deductible on that. (2) (b)VERY IMPORANT! The home owners insurance will have subrogation of rights against you! They will have a right to come after you and collect against you, the party at fault. This applies regardless of your family connection!

Having a claim on her home owners insurance is not in your best interest.

The damages to your car will be covered under you collision coverage. That coverage likely has a deductible.



How Much is Your Case Worth?
Ask a Lawyer Now!
Good Luck,
http://www.auto-insurance-claim-advice.com/
Subscribe to our Free Newsletter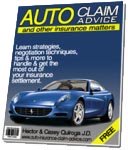 Join our free monthly subscription with tips, news, articles, negotiation techniques, and more about insurance companies and their claim process.
Join in and write your own page! It's easy to do. How? Simply click here to return to Got Questions?.
Please see more answers to recent personal injury and auto accident questions below:
---
For a Free Review of Your Case
Please Call (866) 878-2432
---