Ask an Attorney a Question for FREE!
Uhaul hit illegaly parked car while turning
While making a right turn on a one way street I clipped the back left corner of an illegally parked car.

The law in my state is that all cars need to be parked 25 feet away from the crosswalk, the car I hit was about 4 feet from the crosswalk If the car was parked legally there would not have been an accident.

There was a police report taken and the officer did not note that the car was parked illegally. I went back a few days later with video proof and the officer modified the police report.

I do not have my own auto policy and didn't purchase any of the extended insurance from uhal. There was no damage done to the uhaul and about 2.5-3K of damage done to the illegally parked car. Who is liable here and what kind of percentage would it be?

Thanks


Answer:

Hello,

Well, we can't give you percentages with so little information. You have a video of the actual collision? What did the police officer actually say / wrote on the report? Was there a modification of any kind?

If the vehicle is illegally parked, then they will have fault, at least some. However, the big question is, why did you not see the Uhal. They are pretty big ugly trucks with Orange on them. If the object was there to be seen, they maybe you were not paying attention?

If there are obstructions to your line of sight, then you can argue that (a tree, another car, etc), but if there was nothing and you still clip the Uhal, then that is going to be an issue for you.


How Much is Your Case Worth?
Ask a Lawyer Now!
Good luck,
http://www.auto-insurance-claim-advice.com/
Subscribe to our Free Newsletter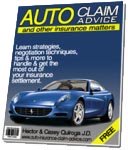 Join our free monthly subscription with tips, news, articles, negotiation techniques, and more about insurance companies and their claim process.
Join in and write your own page! It's easy to do. How? Simply click here to return to Got Questions?.
Please see more answers to recent personal injury and auto accident questions below:
---
For a Free Review of Your Case
Please Call (866) 878-2432
---