Ask an Attorney a Question for FREE!
What happens now?
There was a woman in front of me driving and was accessing a service road. She yielded and began to go and as I came up to yield,

I check to see if I'm clear, and as I do she stops and I run into the back of her car.

I have full coverage on my car that I just got not even a month ago because I just totaled my previous car. Is that going to be covered or is there something im going to have to pay (like a deductible or something)?


Answer:

You are most likely at fault. You will have to pay a deductible for your repairs. No deductible for the vehicle you hit.

This will not doubt increase your insurance. Try to get a quote before it is too late!

Try this: http://www.car-insurance-tips.us/auto-insurance-quotes.php

Good Luck,
http://www.auto-insurance-claim-advice.com/

Subscribe to our Free Newsletter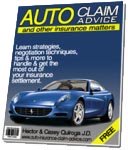 Join our free monthly subscription with tips, news, articles, negotiation techniques, and more about insurance companies and their claim process.
How Much is Your Case Worth?
Ask a Lawyer Now!
Join in and write your own page! It's easy to do. How? Simply click here to return to Got Questions?.
Please see more answers to recent personal injury and auto accident questions below:
---
For a Free Review of Your Case
Please Call (866) 878-2432
---