Ask an Attorney a Question for FREE!
which insurance doctors do I use
by Joan
While on the job, driving for my company, I was struck head-on by another auto coming into my lane from the opposite direction. I have the accident report, it's her fault.

Who do I go through for my medical, the car insurance or the workman's comp. What is the law on this.

With the car insurance , I get to pick my doctors and have a better chance at fairness in assessing my injuries.

With workman's comp, they pick my doctors.

Please answer quickly,

Thanks Joan

Answer:

You need to check with a local lawyer for this. Typically, the insurance company picks the medical bills up to the amount of the liability, after that, the workers comp may be secondary. Some states do it the other way around.

Workers comp can pay for your loss wages up front, but only a percentage.

Again, you do want to talk to an attorney for this. Please see below.


How Much is Your Case Worth?
Ask a Lawyer Now!
Good Luck,
http://www.auto-insurance-claim-advice.com/
Subscribe to our Free Newsletter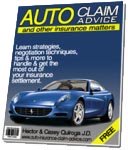 Join our free monthly subscription with tips, news, articles, negotiation techniques, and more about insurance companies and their claim process.
Join in and write your own page! It's easy to do. How? Simply click here to return to Got Questions?.
Please see more answers to recent personal injury and auto accident questions below:
---
For a Free Review of Your Case
Please Call (866) 878-2432
---