Ask an Attorney a Question for FREE!
Who fault is it when backing into a parked contractor's car in your own driveway?
A contractors pick-up was parked on my driveway about 6' from the closed garage door. The driveway is very long approximately 60 feet in length. The garage is for two cars but it has two separate garage doors that are 8' wide each with a center post, which does not allow for a full access view of the driveway leading up to the garage entry.

I needed to leave my house to do an errand and I was unaware a service person was at the house doing some work in the backyard. I got in to my car which was parked inside the garage with the garage door in the down position. I started the car and pressed on the garage door remote to open the door. As the garage door opened I pulled the car out and felt a bump to my car.

I realized that I hit the contractor's car bumper against bumper. My car a small SUV had no damage on its bumper not even a scrape since the greatest speed in backing out may have been 1 or 2 mph. The contractors pick-up had a major crumple in the directly in the middle of the car's bumper which most likely was from previous accident. It would be hard to believe this minor bumper accident created this type of damage to the contractor's car.

So in this case who is at fault or responsible. The contractor who parked his car directly in front of my garage door creating an unforeseen obstruction or me backing out of my own garage on my property not aware that he parked his car right at my garage door entry.

Answer to: Who fault is it when backing into a parked contractor's car in your own driveway?

Hello there,

Well, you have a duty to look out when you are backing. The contractor is not illegally park, you can park in a private driveway, so it seems that you are at fault.

Even if you argue that you could not see the contractors vehicle back there (because of the post), then it is the duty of the driver to ensure that there is nothing behind (as in, get out and go look). The good thing here is that it was not a child. That is one of the reasons the law requires drivers to ensure there is nothing behind.

Please see more about fault here:

http://www.auto-insurance-claim-advice.com/Fault-for-the-Accident.html

Good Luck,

http://www.auto-insurance-claim-advice.com/


Subscribe to our Free Newsletter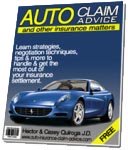 Join our free monthly subscription with tips, news, articles, negotiation techniques, and more about insurance companies and their claim process.
Join in and write your own page! It's easy to do. How? Simply click here to return to Got Questions?.
Please see more answers to recent personal injury and auto accident questions below:
---
For a Free Review of Your Case
Please Call (866) 878-2432
---