Ask an Attorney a Question for FREE!
Who is at Fault Here?
by Lynn
(Hillsborogh, NC)
My friend who is 16 drives me to school every day; but the car was in my mother's name. We got in a wreck she rear ended a blue car and it hit a white car.

All of the car had insurance including my friend. but according to my mothers insurance agent the owner of the car has to pay for all of the damage, even though my mother was not driving.

Does my friend have to pay for the damage to my car? is there any loop holes to get around this so my mothers insurance don't have to pay?


Answer to: Who is a fault here?::

Loopholes? You need a lawyer for that.

Your question wants to know how is at fault. It's pretty clear, the 16 year old driving – she caused the collision. However,

The agent seems to be correct. The insurance of the company of the vehicle (your mom's insurance) will probably have to pay.

Good Luck,
http://www.auto-insurance-claim-advice.com/


Subscribe to our Free Newsletter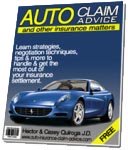 Join our free monthly subscription with tips, news, articles, negotiation techniques, and more about insurance companies and their claim process.
Join in and write your own page! It's easy to do. How? Simply click here to return to Got Questions?.
Please see more answers to recent personal injury and auto accident questions below:
---
For a Free Review of Your Case
Please Call (866) 878-2432
---