Ask an Attorney a Question for FREE!
Who is at fault- Semi truck rear ended me head on, claimed I was merging from closed lane but i was NOT!
by Lauren
(Cleveland, Ohio)
Left lane of highway was closing, I merged about a mile before it closed. Driver in front of me waited until last minute to merge, I had to slow down to allow for him to merge in front of me (would've hit him if i didn't slow down) semi truck rear-ended me head on from behind, he must not have seen me slow down. the damages are completely equal to each side, i was already fully in the lane once he hit me. he told the cops I merged directly in front of him---FALSE!

His insurance is "investigating". I live in Ohio, does anyone know if the person whom did the "rear-ending" is always at fault? There is no proof that I had already merged. It is his word against mine.

Answer:


Hello Lauren,


Well, if you were merging, and you were ahead, he still have to give you space to avoid an accident. He must have seen you. The word v. word claim will be determined by the damages. If you have damages that support that you were in front of him, then a rear ender will likely be his fault.

If you can get the person in front to testify, then that would be optimal. Clearly this is not possible, so all you have is your word and the physical damages that seem to support your point of view.

Good Luck,
http://www.auto-insurance-claim-advice.com/



How Much is Your Case Worth?
Ask a Lawyer Now!
Subscribe to our Free Newsletter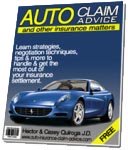 Join our free monthly subscription with tips, news, articles, negotiation techniques, and more about insurance companies and their claim process.
Join in and write your own page! It's easy to do. How? Simply click here to return to Got Questions?.
Please see more answers to recent personal injury and auto accident questions below:
---
For a Free Review of Your Case
Please Call (866) 878-2432
---