Ask an Attorney a Question for FREE!
Who will get the check | Claim in the middle of a divorce
by Ashley
I am in the process of a divorce. When My husband and I bought the car I have been driving for years, it was put in his name only because of credit issues.

I however made all of the payment and I provide the insurance. The loan has less the $1000.00 on it. After the loan is paid off I was to have this car signed over to me by my ex husband.

I was recently in an accident and the insurance company is totaling the car for $6300 after the loan is paid off who then should get the balance, me as the person insured the car and paid all of the car payments or my husband because his name is on the title right now?


Answer:

Hello Ashley,

The insurance company has a duty to 1. The policy holder and 2. The vehicle owner. You know that under 2. He is the owner. However, if you are a policy holder , you may have rights. You do want to talk to an attorney to see how you can lien the file or do something so your interest is not gone.

Good Luck,
http://www.auto-insurance-claim-advice.com/


Subscribe to our Free Newsletter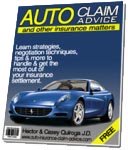 Join our free monthly subscription with tips, news, articles, negotiation techniques, and more about insurance companies and their claim process.
Join in and write your own page! It's easy to do. How? Simply click here to return to Got Questions?.
Please see more answers to recent personal injury and auto accident questions below:
---
For a Free Review of Your Case
Please Call (866) 878-2432
---