Ask an Attorney a Question for FREE!
Why is it denied?
Nationwide insurance company investigated my vehicle and stated another key was used to start my car and that I did not turn in the other keys when I stated at every time that I bought the vehicle from a private owner and I only had one key.

Therefore because my key was not used to start the vehicle last, nationwide denies my claim and say I have another key..??? What do I do from here?


Answer:


Hello,

Well, it seems like there are a lot of facts missing here. The insurance company should put the denial in writing.

Require a writing and talk to a lawyer immediately.



How Much is Your Case Worth?
Ask a Lawyer Now!
As always, it is very important that you talk with a local attorney!
Good Luck,
Auto Insurance Claim Advice
Subscribe to our Free Newsletter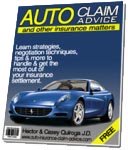 Join our free monthly subscription with tips, news, articles, negotiation techniques, and more about insurance companies and their claim process.
Please see more answers to recent personal injury and auto accident questions below:
---
For a Free Review of Your Case
Please Call (866) 878-2432
---