Ask an Attorney a Question for FREE!
wrecked
by samantha
(Greensboro, NC)
I had just brought this car from a sister's friend and told us that the car had insurance on it. So I could drive it until everything got put into my name.

The car was in his name, and had insurance. Well one morning I got into a wreck going to school.

Well the car didn't have insurance on it but was in his name. Now I'm stuck with the bill of the insurance from the other driver.

However should I be paying this or should he because I wouldn't of drove the car if I knew it didn't have insurance of it and plus the car was still in his name. So shouldn't he be still responsible of what happens to the car, even if he wasn't driving?

Answer:

Hello,

Well, it is your responsibility to ensure the car is insured BEFORE you drive it. His representation to you does not discharge your duty.

Do you live with your family? Does anyone in your household have a vehicle with insurance? You may be covered under that policy.

Look for coverage there.

If not, you are responsible for the damages you caused.



How Much is Your Case Worth?
Ask a Lawyer Now!
Good Luck
http://www.auto-insurance-claim-advice.com/
Subscribe to our Free Newsletter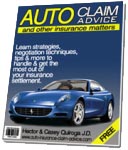 Join our free monthly subscription with tips, news, articles, negotiation techniques, and more about insurance companies and their claim process.
Join in and write your own page! It's easy to do. How? Simply click here to return to Got Questions?.
Please see more answers to recent personal injury and auto accident questions below:
---
For a Free Review of Your Case
Please Call (866) 878-2432
---